Meet the Others: James Earley
The Game Changers. The Rule Breakers. The Innovators. Discover some of the fantastic emerging talent showcasing their work at The Other Art Fair.
Painting those on the very edge of society, James Earley's portraits raise awareness of the issues in our world today and 'make the invisible visible'.
Tell us about who you are and what you do. What is your background?
I am a late developer in the world of art. As a child I was the talented, almost freakish artist. I had no training but I found that this was a gift that I had. As a teenager I rebelled against this gift, a gift that made me feel different when all I wanted to at that age was to be normal. I decided to turn my back on art and go into law. I obtained a degree in law and this was my profession for twenty years. Every night I would go to bed knowing that it was another day wasted. I knew my passion was art, I knew that I had to be creating art and I knew that I was cheating myself by not doing it. I think that this outer shell started crumbling after I visited Auschwitz concentration camp. I came back to the UK a different person. I picked up a paint brush for the first time in twenty years, turned my back on law and I have been a full-time artist ever since.
What are the major themes you pursue in your work?
I want to use my art to raise awareness of issues such as homelessness, poverty, mental health and war.
How did you first get interested in your medium and what draws you to it specifically?
I always felt the power of portraits. I spent many years in art galleries as a child staring at portraits of the most powerful people. I always wandered why it was just the rich and famous who were painted. I remember as a child seeing a homeless man and I remember that I had a strong desire to paint his portrait and in fact that was the first portrait that I ever did. I do not know why I am drawn to painting those people on the very edge of society, sometimes you just have to follow your instincts as they do not tell lies. I know that I am only happy when I am painting portraits of those who are invisible, I have a strong desire to help make them visible. It is not just the rich and famous that deserve a portrait.
How has your style and practice changed over the years?
I am not an artist that produces decorative art. I want my art to scream and shout, grab the viewer and demand attention. I want my art to be relevant now and in hundreds of years time, I want it to be a history lesson. As such my art has got more and more direct, maybe a few years ago the message was more subtle but I hope that now I have gained the courage and confidence in being more direct.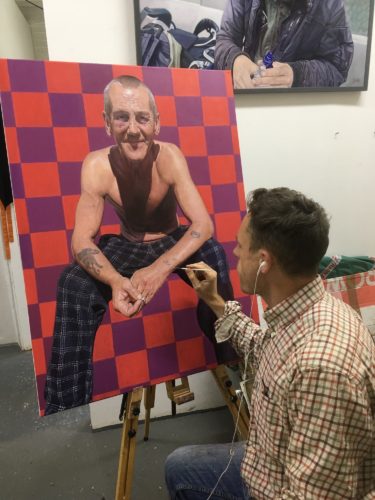 Can you walk us through the process? How long do you spend on one work? How do you know when it's finished?
If I am walking along a street in London and I see a homeless person sometimes I am drawn to that person. I do not know why I am drawn to that specific person. I then introduce myself as an artist and over a period of time I build up a friendship with that person. Eventually the person will have the trust in me and let me sketch them. The sketches help me get to know the face of the person but also it breaks down many barriers that exist between two people and this process helps me get the emotion into my portrait. I normally do 10 sketches of the subject and I also take photographs. I then go to the studio and use the sketches to build up a portrait of the subject. I will use the photos to help me with the details of the clothing and the background etc but I will always use the sketches for the face and never the photos. I will sketch out the painting on a primed canvas. I will then do the underpainting which will take me about two weeks and once this is dry I will go over and over the painting adding details and gradually reducing the size of the paint brush. The process will take me about 4-6 weeks of intense painting. I always know when a painting is done as I get to a point that is often quite sudden when I know that any more will dilute the message of the work.
What is the best advice given to you as an artist?
I remember a really well known artist said to me that art should be on a straight line between your heart and the canvas. I know that my art comes from my heart and I can not allow it to deviate or dilute, it has to be direct and pure.
Do you have any projects that you are working on next?
I work with a number of charities and when I sell my work I donate a percentage of the proceeds to a number of charities. One of the charities is The Innocence Project which is based in the US. Their mission is to free the staggering number of innocent people who remain incarcerated, and to bring reform to the system responsible for their unjust imprisonment. I have been asked by them to paint a series of portraits of some exonerees. These portraits will be exhibited in a gallery in New York and In London and will be auctioned off for the charity.
I have also been asked to paint a large scale painting for St Bartholomew's hospital in London which is Londons oldest hospital.